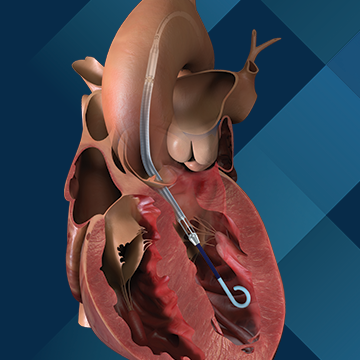 Impella CP® with SmartAssist®
Minimally invasive heart pump with intelligent technology to improve patient outcomes with peak flows up to 4.3 L/min
Overview
The Impella CP with SmartAssist heart pump is designated as safe and effective by the FDA for use during high-risk PCI procedures and for patients in cardiogenic shock. It is a minimally invasive, temporary heart pump that uses real-time intelligence associated with improved survival and heart recovery.
Indication and Safety Information EU
INDICATIONS FOR USE
The Impella CP with SmartAssist® (intracardiac pump for supporting the left ventricle) is intended for clinical use in cardiology and in cardiac surgery for up to 5 days for the following indications, as well as others:
· The Impella is a circulatory support system for patients with reduced left ventricular function, e.g., post-cardiotomy, low output syndrome, cardiogenic shock after acute myocardial infarction, or for myocardial protection after acute myocardial infarction
· The Impella may also be used as a cardiovascular support system during coronary bypass surgery on the beating heart, particularly in patients with limited preoperative ejection fraction with a high risk of postoperative
low output syndrome.
· Support during high risk percutaneous coronary intervention (PCI)
· Post PCI
CONTRAINDICATIONS
· Mechanical aortic valves, severe aortic valvular stenosis or valvular regurgitation
· Hematological disorder causing fragility of the blood cells or hemolysis
· Hypertrophic obstructive cardiomyopathy (HOCM)
· Aneurysm or necrotomy or severe anomaly of the ascending aorta and / or the aortic arch
· Mural thrombus in the left ventricle
· Ventricular septal defect (VSD) after myocardial infarction
· Anatomic conditions precluding insertion of the pump
· Other illnesses or therapy requirements precluding use of the pump
· Severe peripheral arterial occlusion disease (PAOD) is a relative contraindication
POSSIBLE COMPLICATIONS
There are risks of complications with every procedure using a blood pump. These include among others:
Dazu gehören u. a.:
· Hemolysis
· Bleeding
· Immune reaction
· Embolism, thrombosis
· Vascular injury through to angionecrotomy
· Positioning problems
· Infection and septicemia
· Dislocation of the pump
· Cardiovalvular injuries due to extreme movement of the suction cannula in relation to the cardiac valve or
as a result of attachment by suction of the pump to the valve system following incorrect positioning
· Endocardiac injuries as a result of attachment of the pump due to suction
· Pump failure, loss of pump components following a defect
· Patient dependency on the pump after use for support
In addition to the risks above, there are other WARNINGS and PRECAUTIONS associated with Impella devices.
For more information please see the Instructions for Use Manuals.